Cart
(

0

)
The item you just added is unavailable. Please select another product or variant.

Cart
Recently Added
Total €0.00
The item you just added is unavailable. Please select another product or variant.
THE WEEKENDER
Warsaw By Jakub Plesniarski
JAKUB PLESNIARSKI
-Fashion Fotographer-
"One of my biggest inspirations are art and architecture. Besides photography and taking pictures I love to travel. Exploring new places, cultures, cuisines and meeting new people are driving me the most in life."
WHY DO YOU LOVE YOUR CITY?
Warsaw is constantly evolving in a very dynamic way, and this is what I love most about the city. We have a lot of absolutely stunning restaurants here, and our cultural scene is super diverse. You can find something for yourself at Teatr Nowy or Opera Narodowa, or you can visit one of the small art galleries filled with 'young' and contemporary art. There are plenty of fresh and interesting cultural initiatives where you can meet, get inspired by, and hang out with amazing, creative people.  Compared to other European capitals, Warsaw is a super 'green' city with nearly 100 parks. That means there's plenty of space for chilling, jogging, or enjoying Chopin's music – but I'll come back to this later. If you're vegan, you couldn't have chosen a better place. Warsaw has consistently been rated one of the top three cities in Europe with the largest number of vegan restaurants year after year.  Maybe our weather isn't the kindest during the colder months, but if you visit Warsaw in spring or summer, you can experience the city to the fullest. So let me share a few of my favorite spots below.
DESCRIBE YOUR IDEAL SATURDAY IN WARSAW
After a morning workout at the gym, one of the highlights of my day is always having breakfast with my boyfriend. We prefer it to be big, delicious, and full of comfort food. Our usual go-to spot is Być Może, and though they have three locations in Warsaw, our favorite one is situated at Lwowska 17 Street. They offer all the breakfast classics and absolutely amazing freshly baked pastries. Calories don't seem to exist here, so you can fully savor these treats. Other excellent options include Typika or the newly opened Bibi's at Norblin's Factory. 
Then, we would embark on a leisurely stroll through the city center, taking a little break in Saski Park or Krasiński's Park. If you happen to be in the area, consider grabbing a coffee from Lourse at Raffles Europejski Hotel. Alternatively, you can simply sit in their lobby, appreciating a portion of their remarkable contemporary art collection while indulging in delightful sweets from Lourse.  
Continuing our adventure, we'd head towards the river, making our way to the Powiśle district to discover the latest offerings at GaliLu, located in Elektrownia Powiśle. GaliLu boasts one of the finest selections of perfumes, featuring brands such as Frederic Malle, Byredo, and Le Labo. They also offer candles and home fragrances from my personal favorites, Diptyque and Cire Trudon. It's no surprise that GaliLu is the exclusive place to find The Grey products if you're looking to replenish your skincare collection.  
To round off our perfect Saturday, we'd spend the evening with our friends at my favorite restaurant, Le Braci. Beyond its exceptional Italian cuisine and an extensive range of wines, this place is renowned for its exceptionally friendly and professional service. Le Braci has garnered numerous accolades, including being long-listed as one of the best-designed restaurants by Dezeen Awards, recognized by Ospitalita Italiana as an ambassador of Italian cuisine worldwide, and awarded the Bib Gourmand by Michelin.  
To cap off the night, we'd start with drinks at Zaremba Cafe and then dance the night away at the dark and moody Jasna 1 Club until the early morning hours.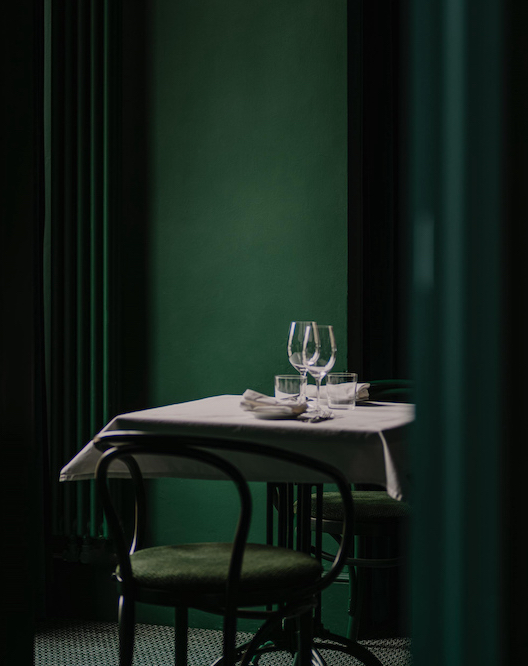 Le Braci
WHAT IS YOUR FAVORITE NEIGHBORHOOD?
I live in the city center, which is why Śródmieście is one of my favorite neighborhoods. It's where old buildings seamlessly blend with new, shiny skyscrapers. It's a place where the intricate history and heritage of the city intersect with the vibrant energy and fast-paced atmosphere of a large, evolving metropolis. This is where you can find most of my cherished spots, accessible either on foot or by renting a city bike. Moreover, in this area, you have the opportunity to visit the best museums in town, relax in the most beautiful parks, or enjoy some whiskey sours while attending a jazz concert.
WERE TO STAY
When you're in Warsaw, you should definitely visit Hotel Warszawa. It is located in the city center, within the legendary Prudential building, which happens to be Warsaw's first skyscraper. This building holds significant historical importance as it symbolizes the city's resurgence after the war. Renovated with meticulous attention to detail in 2018 by the LHR Group, it now stands as one of the most modern and contemporary hotels in Poland. Here, history seamlessly blends with extraordinary design, resulting in exquisite luxury interiors adorned with dark marble, steel, glass, and copper elements. Hotel Warszawa boasts two exceptional restaurants and the finest wellness and spa facilities in the city.  
Another outstanding option is Puro Hotel Warszawa, a design-focused boutique hotel crafted by JEMS Architects. I am particularly fond of their design philosophy, which is both contemporary and sustainable, striving for timelessness rather than following passing trends. On the top floor of this boutique gem, you'll find a charming rooftop bar offering an impressive selection of drinks and an awe-inspiring view of the Warsaw skyline.
WERE TO GET THE BEST COFFEE
Unfortunately I'm not a coffee person. But don't worry - I won't leave you without a coffee tip. I've asked my coffee lover friends and they highly recommend Dobra Materia and Typika. 
Grace
WERE TO EAT AND DRINK
Besides Le Braci, another great restaurant with Italian cuisine is Lupo, but this place has a completely different vibe. The interior design is inspired by the extraordinary Memphis style, and the menu is full of fresh, handmade pasta dishes. Each of them is unusual, but they will all teleport you to sunny Italy for sure. 
If you're a vegan, one of the best options in town is Bibenda. Always busy and full of people, it has a very cozy vibe. If you're not a vegan, don't worry - their cuisine is sooo delicious you won't even miss the meat on your plate. 
I'm a big fan of Israeli cuisine as well, and a great place to enjoy these tastes is Joel Sharing Concept. This place has an amazing atmosphere with dimmed light, a copper bar, and lots of candles everywhere. The owner paid attention to the smallest details. It's always super busy, so don't forget to make a reservation. If you have a craving for Asian fusion, for instance, one of my favorite restaurants is Shoku. They have the best ramen in town, and their wasabi Caesar salad is a surprising version of an old classic.
After all that amazing food, we need a dessert! Please check Lukullus in Saint Tropez (We're still in Warsaw; that's only the name). You'll be surprised by the interior design and delighted by the taste of their ice creams. If you're not an ice cream fan, you're still good there. Lukullus is, above all, a confectionery with a great and long history strongly bound to Warsaw. They have three locations with their amazing pastries. For drinks, Zaremba Cafe is a must. Before it became one of the best places for a drink, it used to be a tailor's workshop, which is why bartenders are dressed like tailors there. You can also go and check Grace Drink Bar and their moody and bloody red interior. If you're a fan of gin, Lane's Gin Bar in Bristol Hotel is also worth considering.

SHOPS WE CANT MISS
If you're looking for top fashion brands, head to Vitkac. On the top floor, they have a super nice restaurant called Concept 13 as well. It's a perfect spot for lunch during your shopping. Close to Vitkac is Mysia 3. In the three levels of the building, you will find original fashion concepts, jewelry, art, and interior stores, like Nap, which is definitely worth stepping into.
PLACES OF INTEREST
I love walking around the city, and Warsaw is very convenient to explore this way. I highly recommend visiting Warsaw's parks and gardens. One of the most popular and spectacular ones is Łazienki Królewskie. You can walk and chill there for hours. Please note that every Sunday (during the summer months, until the end of September), you can sit on the grass next to Chopin's statue and enjoy live concerts featuring his music. The city invites pianists of worldwide renown, making it a truly wonderful experience. 
For jazz music enthusiasts, Jassmine Club will be an amazing place to visit. It is located in the underground of Nobu Hotel. A super interesting spot for art lovers is The Bimer House Gallery. It is a modern house-gallery concept that presents art in a unique way. With furniture, objects, and absolutely stunning lamps, it's a must-see for all design enthusiasts. 
In the gardens of the National Museum, you can find a lovely place to chill and sip a glass of wine at Cafe Podrygi, which in the evenings naturally transforms into a place with open-air parties. The owners of this place have just opened a new spot: Cafe Pląs, again in an amazing location, this time in a sculpture museum in Królikarnia and its park surroundings. It's worth a visit, especially on summer weekend evenings when you can dance and have fun with the coolest crowd.  
One of the most anticipated events is the opening of the new Museum of Modern Art. This spectacular building is expected to open in June 2024 in the heart of Warsaw. If you plan to visit Warsaw after this date, be sure to add it to your bucket list.
The Raffles
YOUR FAVORITE LOCAL  HOTSPOTS
I really like visiting Krasiński's Park. You can take your picnic essentials with you, sit on the grass, and enjoy a beautiful view of the fountain and Krasiński's Palace. You can also sunbathe or play boules with your friends there. When you're in town, check if Haust is not throwing a party at another amazing location. The last one was at the top of Varso Tower, the tallest building in the EU.

ABOUT THE WEEKENDER 
Our "The Grey" friends, family and ambassadors has grown into an amazingly interesting community of men based all over the world. And what better city guides than local heroes with exquisite taste for food, fashion, and culture to guide you through our world metropolises? Enjoy the inside information of our community."