Cart
(

0

)
The item you just added is unavailable. Please select another product or variant.

Cart
Recently Added
Total €0.00
The item you just added is unavailable. Please select another product or variant.
About The Weekender
Our The Grey friends, family and ambassadors has grown into an amazingly interesting group of men based all over the world. And what better city guides than local heroes with exquisite taste for food, fashion, and culture to guide you through our world metropolises? Enjoy the inside information of our community.
" This time van Doorn  shares his inside information in Amsterdam, the city he calls home. 

Ruud van Doorn  
- Post-production expert - 
"I'm a 31-year-old who has been living in Amsterdam for 12 years now, originally from the south of the Netherlands. I'm active in the world of post-production where I mainly manage the accounts for the retouching company I own, which speaks to my love for details. This also translates to enjoying beautiful materials, shapes, and design, especially when it comes to fabrics and interior aesthetics. Travel is a big part of my life to balance my work ethic, but I always find solace in returning home to enjoy the comforts of my house and the beauty of my city.."


Why do you love your city? 
Amsterdam's charm lies in its rich history, picturesque canals and vibrant cultural scene. I adore the city for its perfect blend of old-world charm and modern innovation. Where it makes it too small for some, I enjoy the easy commuting a-lot, it has a certain village vibe that is uncanny compared to other world cities. Other than that I like that most neighborhoods has their own identity, this way you can find yourself in a different environment within 10 minutes in the same city..  
Describe your ideal Saturday in Rotterdam
My ideal Saturday starts with doing fresh groceries with my boyfriend and prepping a nice breakfast to enjoy together or when we are lazy I grab breakfast to go from Locals, a bunch and lunch place around the corner. Later I'd spend the afternoon exploring an exposition, I live very near museum square which has its perks when you like musuems. Other than that weekends for me are also important to relax and chill around a bit. In the evening, I'd enjoy a fine dining experience at one of Amsterdam's great restaurants, followed by a visit to a cocktail bar.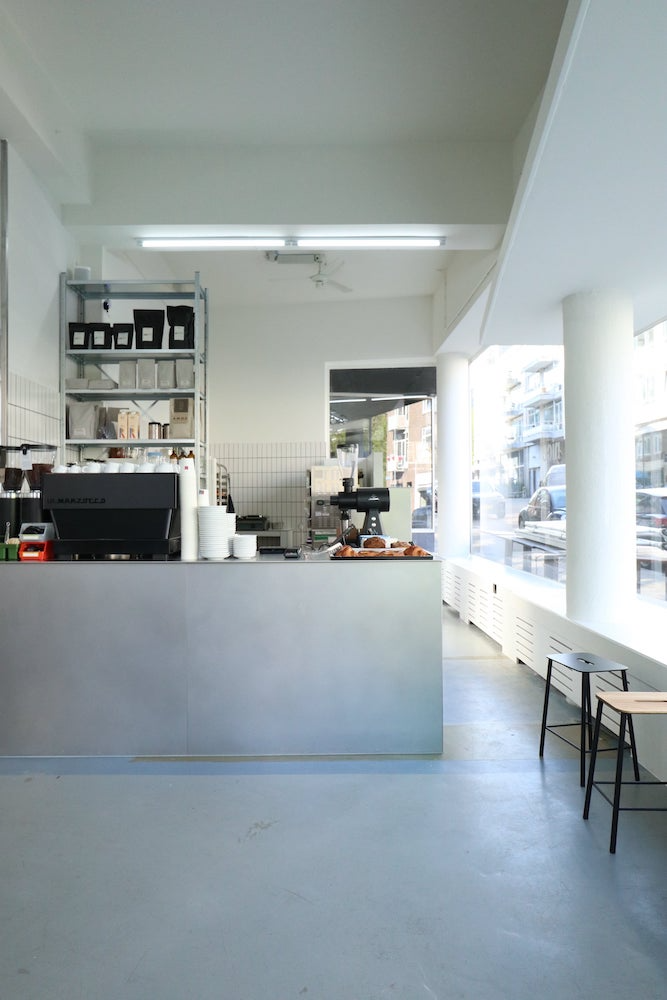 Nice
What is your favorite neighbourhood?
I think the Jordaan has a very unique experience to being in Amsterdam. It's a neighborhood that exudes creativity and history. People sitting in front of their houses having a wine, great restaurants to be found too. My favorite spot would be around the Noordermarkt. Great for a weekend visit!
Were to stay?
Depending on your budget and taste there is a great variety in hotels to be found. I personally always opt for more independent boutique hotels that have great hospitality comfort and design. I would check out Pillow Hotel or Hotel Mercier.
Morgan en Mees
Were to get the best coffee
Were to eat and drink 
For food, I love to go to Bar Simon, Viskantine aan de Cool, Marseille, Bar Berta, and La Pizza. I am a sucker for Thai cuisine, and Deli Bird on the Deliplein is the best in town. The upcoming area in the south of Rotterdam is worth a visit as it houses great restaurants and impressive architecture. For some more fine dining, I would recommend Heroine and Putain. Both locations are beautiful, but Putain is a floating restaurant in the harbor, so if you need to pick only one, this would be the one. For summer drinks, go to Biergarten and sit outside with all the locals. While you're there, check out the agenda of Annabel, our local pop podium; you might be surprised by the artists! Head to De Witte de With and go down to NRC for drinks, and don't forget the cocktail bar at Putain.  sum is simply dummy text
Shops we can't miss
If you enjoy scented candles and beauty in general I would say defiantly visit Skins Cosmetics, which has a shop in old south in the Conservatorium hotel (also nice for a spa visit, or a drink in their lounge) and in the 9 streets of the Jordaan. Whilst you are in the 9 streets you'll find plenty of boutique shops that stand out. Other than that I would def go to Utrechtsestraat, the street has a great interior shop (mobilia), boutiques for clothing, but also some top restaurants (De Juwelier, Zoldering to name two).
Devastator
Places of interest
Amsterdam has lots of culturally rich places, as long you stay away form the inner city center (Rokin, de Dam) you'll be enjoying the city a lot by all it has to offer. I think the Helmerbuurt (bosboom toussain area) has lots of nice streets and great restaurants. Also try out Jan Pieter Heije straat.
Depot
Your favorite local hotspot 
I That would be my own neighborhood, Frans Halsbuurt, it offers pretty and cute streets, great dining and lunch spots (Cafe Caron, 'oeuf, Rainbowls, Pazzi, de Waaghals if you are vegan or vegetarian).


The Rotterdam List 
Below you will find all the addresses Gregor recommends. just click on the link and you will be redirected to their instagram page 
Man met Bril Koffie
s'Zomers Flowers
Devastator
Ansh46
TOK10
Margreet Olsthoorn
Morgan en Mees
Hendrikus
Nen Xavier
Super Nova
Unfliltered
Krozant
Nice
Magazijn Houtman en Menkvel
Bar Berta
Bar Simon
La Pizza
Putaine 
Heroine
Skins
Kino
River Bar
Plein Oost
We take pride in our community and the diversity we have gathered around over the years. We love to share knowledge and the wonderful things in life, and sharing insider information is one of them. Great travels!